As one of Houston's highly skilled plastic surgeons, Dr. Morales performs tummy tuck surgery on men and women at his cosmetic surgery centers in Houston and Katy, TX. A tummy tuck enhances the appearance of the lower abdomen by removing stubborn fat that is resistant to diet and exercise, and tightening the internal abdominal wall muscles. It is popular among women following pregnancy, as well as both men and women after major weight loss. Patients considering this surgery should be in good physical health, and near their goal weight.
Tummy Tuck Reviews
"I love my results! Attention to detail had a tummy tuck looks amazing. Love the work he did. Staff is very nice. Will be back again ;)"
- - /
Office Visit /
Nov 12, 2014
"I began a weight loss journey about three years ago. After changing my lifestyle, eating right and exercising regularly, I lost over 100 pounds in a year. Although I was incredibly happy with the changes in my body, it wasn't the image I had in my head. I had excess skin that no amount of working out was going to tighten up. So I came to see Dr. Morales about abdominoplasty and an inner thigh lift. I was incredibly anxious and to be honest a little weary but from the moment I walked in the office I felt like I was part of the family. I laughed and I cried at the first consultation and I knew I had found the right practice and more importantly the right surgeon to help me finish what I had started! I had a couple more appointments before the big day and my biggest concern was recovery. Dr. Morales was with me every step of the way and answered every silly question, and calmed every silly anxiety, through the whole process from the first consultation through every follow up appointment. My surgery was a year and a half ago and I could not be happier with the results. I have gained a confidence that I had no idea was buried deep inside, and I continue to work at being healthy each and every day and am in the best shape of my life. I am even running the Houston Half Marathon next weekend. I am so thankful for the support and encouragement from Dr. Morales and would recommend him to anyone who was considering a procedure for whatever reason. As soon as you meet him you will not regret it! "
- B.N. /
Google /
Jan 23, 2014
"My weight loss journey began in 2009. 6 years and a nearly 200 lb loss left me with a ton of extra skin on my belly! I had always contemplated surgery to remove the excess skin, but hesitated because it is a very major surgery. After finding Dr. Morales, and meeting with his staff for the first time, I knew that he would be the doctor for me! He was very kind and professional but most of all understanding. Any of you who have dealt with weight/major weight loss understand how... mortifying it is to stand half naked in front of anyone, especially a total stranger. I literally teared up when unveiling for the first time in the office, but Dr. Morales and his patient coordinator Linda immediately made me feel hope. For the first time I knew that I would finally be able to see the results that I had worked so hard to achieve for all these years. That I would finally be able to see the body that was hiding under all of my extra skin. Dr. Morales has been amazing through my entire process. On the day of my surgery, he put my nerves at ease by re-explaining everything he planned to do in detail. After my surgery he visited me in his after care center just to see how I was doing. I was very surprised at my pain level. I had expected after an extended tummy tuck/lift to be in a lot of pain, but it was very minimal & controllable. I am now 2 months post op! I know Dr. Morales techniques during my surgery & his pre/post op care measures are the only reason I have had such a great recovery. I would say if you are planning to take this ride down "Surgery Avenue" to be sure to have an amazing driver at the wheel. I have already recommended Dr. Morales to several friends/family members & recommend him to anyone out there wanting a beautiful natural change. I give Dr. Morales & his office TWO THUMBS UP! :-) (*Also I must add...my belly & belly button look fabulous! I think Dr. Morales & Linda were right... I will for the first time in my entire life feel comfortable enough to slip into a bikini. I would have NEVER thought...me.. a 30 yr. old mother of two...who was 350+ lbs just 6 years ago would ever actually rock a bikini. Yay! Thank you again Dr. Morales!!!!! )"
- Anonymous /
Facebook /
Jul 09, 2015
"32 Mommy of 2....Much Needed Tummy Tuck, Breast Reduction & Lipo Of Back, Hips, & Flanks - Houston, TX - I'm scheduled for my mommy makeover on Sept 23rd. I went for my pre-op this past Wed Sept 10th. The staff was more than helpful & answered all my questions. I'm a little nervous but can't wait for my new body. :) I have struggled with my weight & body since my youngest son was born. I'm anxious and excited all at the same time."
- A. /
RealSelf /
Sep 11, 2014
"45 and Feeling 10 Years Younger - Houston, TX - Dr. Morales listens to your needs and explains everything in detail. He takes his time with each individual patient. He gives you great eye contact. I say this because many doctors I have visited are busy documenting the visit without looking at their patients face to face. He has great bedside manners. I honestly feel he wants the best for me. - - For years I have thought about getting a tummy tuck but was not comfortable with getting the procedure done. I have had loose skin since my twenties due to weight loss and 2 kids. Recently I have experienced weight gain in my mid section due to aging. I made a consultation with Dr. Morales for liposuction in the flank areas. He said that I would be a good candidate and he also recommended a tummy tuck along with the liposuction. I love his honesty. I had visited a couple of doctors prior to him and they never made any additional suggestions than what I went in for. Dr. Morales made me feel comfortable with having the procedure done. His whole staff was great! I have been in the medical field for 20 years and once I visited his office I made changes in my own office. Linda, his manager was helpful in accommodating my hectic schedule when booking the procedure. When I had the procedure done I received a personal call and flowers with a handwritten card from Dr. Morales. These small gestures go a long way. And now with my results...my husband was hesitant with me getting my procedure done and now I can't get him off me. (:"
- C. /
RealSelf /
Jun 21, 2016
Previous
Next
A traditional (full) tummy tuck is suitable for both men and women who have a moderate amount of excess skin in their midsection. It is commonly performed on women post-pregnancy. During this surgery, the incision extends from hipbone to hipbone, which grants the surgeon access to a greater portion of the internal structures. Liposuction is used to remove fat and the abdominal muscles are pulled and tightly secured. The belly button is usually repositioned for natural placement.
Individuals who are in relatively good shape but desire a flatter tummy may be good candidates for a mini tummy tuck (known as a "Brazilian tummy tuck"). These patients have loose abdominal fascia, but the muscles aren't stretched to the point where a full tummy tuck is necessary. During surgery, a smaller incision is made along the lower abdomen, liposuction is used to remove excess fat, and the remaining skin is pulled tight. The belly button is not affected by this surgery.
The extended tummy tuck is reserved for patients who require major skin tightening and body contouring following a major weight loss. The extended tummy tuck requires a longer incision that extends beyond the hips, as well as another one around the navel. Liposuction is used and the excess skin is trimmed away and tightened. The belly button is repositioned during this surgery.
A tummy tuck is performed under general anesthesia in an accredited surgical facility and typically takes around 2 hours to complete. It is considered an outpatient procedure. After surgery, patients will wear a compression garment and will need to rest for the first 48 hours. They should make a concerted effort to move around in order to help promote blood circulation, but should only attempt to initially stand at a 45-degree angle to protect the incision. Pain medication will be provided to help with post-operative pain. Clearance to resume exercise is usually given around 4-6 weeks.
The price for abdominoplasty will vary depending on the technique used, the patient's condition and aesthetic goals, as well as other factors relating to the surgical case. However, on average, most patients can expect to pay between $6,800-$12,500 for their tummy tuck procedure.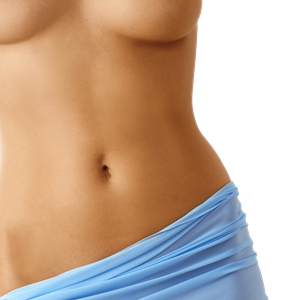 Plan Your Procedure
Average Cost

$8,000

-

$12,000

Recovery Time

2 Weeks

Average Procedure Time

3-4 Hours

Procedure Recovery Location

In-Patient
Contact Us
Patients who have loose skin in the lower abdomen may be better candidates for a skin tightening procedure such as a tummy tuck. If a patient is battling unwanted belly fat, but otherwise has good skin tone, liposuction (which removes fat only) may be all that is needed.
Abdominoplasty can be combined with another cosmetic procedure, such as breast augmentation, a breast lift or liposuction that targets another area of the body. This is sometimes referred to as a "Mommy Makeover" and is considered a common practice, especially where pregnancy, weight gain and breast-feeding are concerned.
Unfortunately, scarring is a part of this procedure. However, every effort is made to minimize scarring, and the incisions are generally placed in locations easily concealed by undergarments. For women who have had a previous C-section, the original C-section scar will be replaced with the tummy tuck incision. Most patients feel the physical results of this surgery far outweigh any scarring left behind.
New Pregnancy? Weight Gain?
For optimal results, it is recommended that patients wait to have abdominoplasty until after all pregnancies have been completed. This is to ensure the stretching and weight gain that occurs with pregnancy does not compromise the results of the surgery.
Related Procedures